Admiro enormemente a las bordadoras que poseen una técnica depurada, manos habilidosas y buen gusto. Y ese es el caso de Natalie Lymer, la artista que está detrás de Cinderberry Stitches, y de Vanessa Ouache. De ellas os quiero hablar esta vez, porque sus obras transmiten el placer de bordar.
I admire greatly to the embroiderers possessing a polished technique, skillful hands and good taste. And that is the case of Natalie Lymer, the artist behind Cinderberry Stitches, and Vanessa Ouache. In this opportunity I would like to to talk about them because their works transmit the pleasure of embroidery.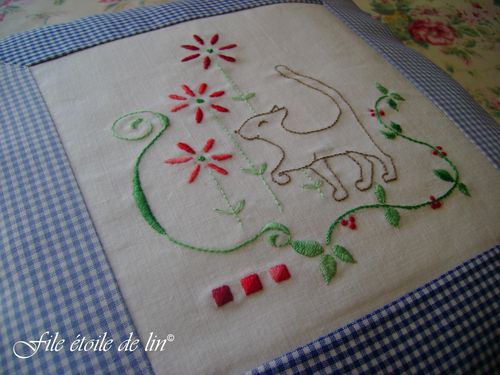 Design by Vanessa Ouache
Design by Natalie Lymer
Cinderberry Stitches es Natalie Lymer, una artista australiana que trabaja el patchwork y el bordado conjuntamente. Diseña piezas y elabora patrones que luego vende. Es conocida por sus pajaritos y sus niños con aspecto de duende.
Cinderberry Stitches is Natalie Lymer, an Australian artist who works the patchwork and embroidery jointly. She designs products and patterns to sell. She is known for her little birds and her children with goblin appearance.
Design by Natalie Lymer
Su trabajo se caracteriza por su excelente técnica. En su
blog
se puede seguir su proceso creativo y disfrutar de las fotos de sus obras, en las que se aprecia el mimo y la perfección con los que cose. Sus creaciones son muy coloristas, con tonos alegres y suaves. Esto, junto con los diseños en sí, nos traslada a un mundo de cuento y ensoñación.
Her work is characterized by her excellent technique. On her blog is posible to follow her creative process and enjoy photos of her works, where it is appreciable the mime and perfection she sews with. Her creations are very colorful, with cheerful and soft shades. This fact and the designs themselves move us to a world of tale and dream.
Design by Natalie Lymer
Design by Natalie Lymer
De Francia llega aire fresco de la mano de Vanessa Ouache. Ya la mencioné en una
entrada
anterior en la que os hablaba de artistas del bordado que lo han modernizado con sus personales creaciones. Vanessa es elegante y delicada, pero también chic, romántica y desenfadada en ocasiones. Puedes dejar pasar el tiempo relajadamente mientras disfrutas de su blog,
File étoile de lin
, en el que presenta todo su trabajo.
Some fresh air comes from France of the hand of Vanessa Ouache. I already mentioned her on a previous post where I talked about embroidery artists who have modernized it with their personal creations. Vanessa is elegant and delicate, but also chic, romantic and casual at times. You can leave the time to pass and relax while enjoying her blog, File étoile lin, where she shows all her work.
Design by Vanessa Ouache
Sus bordados tienen un aire infantil y son muy expresivos. Su obra se basa en el bordado, pero también utiliza otras técnicas con las que lo combina. La revista Borderie Creative dedicó un número a Vanessa que se puede adquirir a través de la
página web
de la editorial francesa Edisaxe, dedicada a labores y cuyas publicaciones son muy aconsejables.
Her embroideries have a children air and are very expressive. Her work is based on

embroidery, but she also uses other techniques to combine with. The magazine Borderie Creative devoted a number to Vanessa that can be purchased via the web page of the french publishing company Edisaxe, devoted to crafts and whose publications are very advisable.
Design by Vanessa Ouache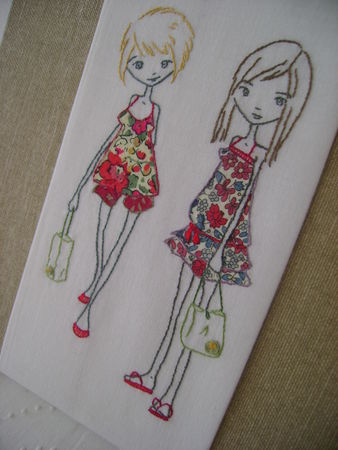 Design by Vanessa Ouache
Si estas fotos os han animado a coger la aguja, en la página de Deshilachado
¡A la labor!
he recopilado las páginas sobre bordado que me parecen más interesantes. Pero quiero destacar una de ellas,
Needle'n Thread
., porque es muy completa, ideal para aprender, mejorar nuestra técnica o ampliar conocimientos. Explica muchos puntos a través de dibujos y vídeos y ofrece multitud de patrones gratuitos. Además contiene mucha información relacionada con el mundo del bordado: enlaces, publicaciones, etc. Su autora es Mary Corbet.
If these photos have encouraged you to take the needle, on the section Let's work! I have compiled the webs about embroidery that seem to me more interesting. But I want to remark one of them, Needle'n Thread, because it is very complete, ideal for learning, improve our technique or expand knowledge. Explains many different points through drawings and videos and offers a multitude of free patterns. It also contains many information related to the world of embroidery: links, publications, etc. Its author is Mary Corbet.