Mi quilter preferida, Jacquie Gering, acaba de publicar en su blog el tutorial de su preciosa colcha de bordes de tela, "Salvage spools quilt". Con sus instrucciones resulta fácil de hacer. ¿Os animáis? Yo, desde que la vi, no he podido arrepentirme más de tirar mis bordes. Tendría para una colcha enorme.
My favorite quilter, Jacquie Gering, has just published on her blog the tutorial of her precious quilt made of fabric edges, "Salvage spools quilt". With her instructions is easy to make it. Do you feel like making it? Since I saw it for the first time, I am regreting I threw all my fabric edges. It would have as many as for making an huge quilt.
The Nebulous Kingdom es la tienda en Etsy de la artista francesa Anne-Julie Aubry, que pinta obras como ésta, ¡para soñar! Con ellas, además de cuadros, decora botones, calendarios, postales, espejos de mano,... Tiene un interesante blog, Ma Petite Theiere.
The Nebulous Kingdom is the shop on Etsy of the French artist Anne-Julie Aubry, who makes paintings as this one. With them, apart from pictures, she decorates buttons, calendars, postcards, hand mirrors... She has an interesting blog, Ma Petite Theiere.
La idea del gran perfumista Francis Kurkdjian (ha creado perfumes para Armani, Guerlain o Gaultier) me parece muy creativa y divertida: pompas perfumadas para niños. Los olores elegidos son muy suaves (hierba recien cortada, pera, violeta y menta fresca). Se llaman les Bulles d'Agathe y se venden en su web.
The idea of the great perfumist Francis Kurkdjian (he has created perfumes for Armani, Guerlain or Gaultier) seems to me to be very creative and funny: perfumed bubbles for children. The chosen perfumes are very soft (newly cut grass, pear, violet and fresh mint). They are called Les Bulles d'Agathe and they are available through his web.
El entrelac es una de las técnicas más bonitas pero más liosas de tejer. En este tutorial de Nishe se explica my bien.
The entrelac is one of the nicest but more difficult knitting techniques. On this Nishe's tutorial it is clearly explained.
Aunque lo parezca no se come. Desde Taiwan Margaret hace deliciosas comidas de fieltro, una renovada versión handmade de las comiditas de plástico con las que jugábamos de pequeños. El fieltro requiere imaginación y tiempo, pero no es difícil de trabajar, así que si os animáis quizás One Only 88 os sirva de inspiración ;)
Though it seems edible it is not. From Taiwan, Margaret makes delicious felt foods, a renewed handmade version of the plastic foods which we played with when we were children. Felt requieres imagination and time, but it is not difficult to work, so if you make up your mind, probably One Only 88 can be an inspiration ;)
El trabajo del fotógrafo italiano afincado en Nueva York Massimo Gammacurta es pura elengacia y originalidad. Especializado en el mundo de la moda, sus fotos de logos de caramelo son las más conocidas de su trabajo.
The work of the Italian photographer settled in New York Massimo Gammacurta is pure elengace and originality. Specialized in the fashion world, his pictures of caramel logos are the most famous of his works.
Si habéis heredado anticuados tapetes de ganchillo de vuestras abuelas que no os atrevéis a poner en casa pero que os da pena tirar, el blog de DMC propone una buena idea: unirlos para hacer un camino de mesa. La verdad es que queda bien, moderniza el concepto y le da un aire desenfadado.
If you have inherited old-fashioned crochet table cloths from your grandmothers that you don't dare to put them at home but it hurts to throw them away, DMC's blog proposes a good idea: to join them and make a table runner. The truth is that it looks nice, updates the concept and gives it a casual air.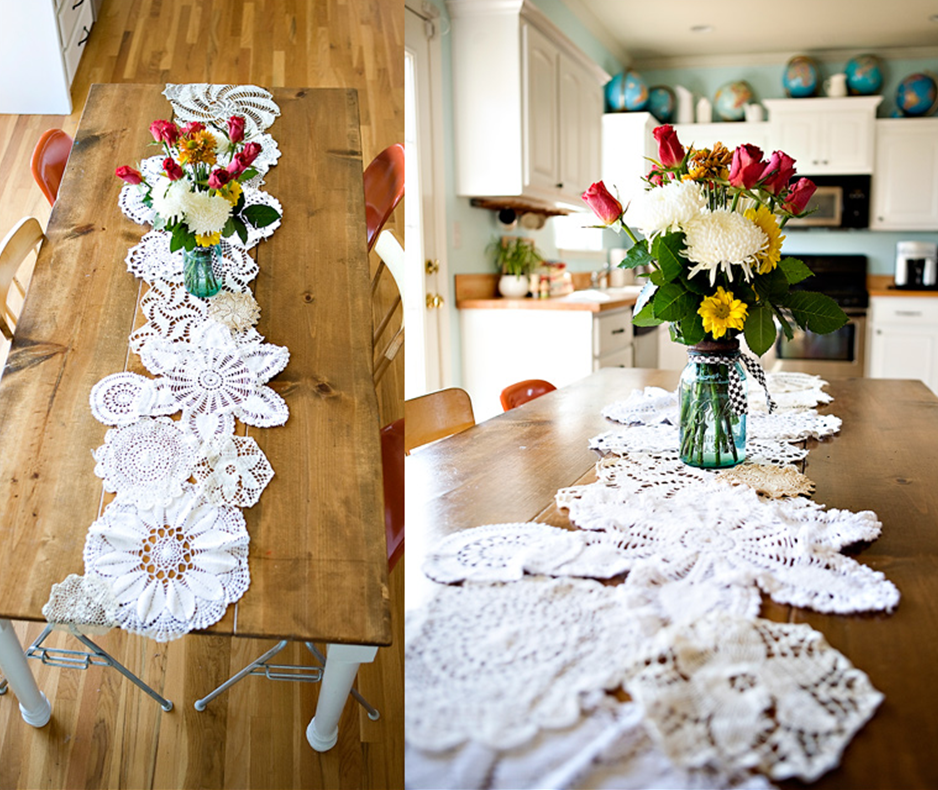 Diseñador, ilustrador y director artístico holandés, Christian Borstlap ha hecho un vídeo para Nowness sobre quienes han sido los creadores que han marcado el camino en la historia de la moda. Fijaos en su predicción de futuro.
The Dutch designer, illustrator and art director, Christian Borstlap has made a video for Nowness about who have been the creators who have marked the way in fashion history. Pay attention to his future prediction.