Febrero es el mes de los almohadones en Sew Mama Sew!, así que cada día muestran uno. Éste almohadón de patchwork de Daisy Janie es de los que más me han gustado, tanto por el resultado como por el trabajo que conlleva.
February is the month of the pillows on Sew Mama Sew!, so everyday they show a new one. This patchwork pillow by Daisy Janie is one of my favourites because of the result and the work it involves.
¿No os parece un abrigo maravilloso? De lana, con aplicaciones de fieltro y una amplísima falda-capa, en blanco inmaculado. Es de la diseñadora rusa afincada en Washington DC Marina Astafyeva.
Don't you think this is a wonderful coat? Made of wool, with felt appliques and a very large cape skirt, in immaculate white. By Marina Astafyeva, a Russian designer settled in Washington DC.
Paris versus New York es el blog de Vahram Muratyan, que través de sus fantásticas ilustraciones compara "de buen rollo" París y Nueva York.
Paris versus New York is Vahram Muratyan's blog, who through his fantastic illustrations "compares" Paris and New York.
Alli, de One Pearl Button, ha realizado un proyecto que me ha gustado mucho: con una sábana vieja que ha cortado en tiras ha tejido una alfombra para el baño.
Alli, from One Pearl Button, has made a project I've liked very much: she has knitted a carpet for the bathroom with an old sheet cut in strips.
Esther Horchner es una ilustradora holandesa con un estilo moderno y un poco "callejero" (en realidad muy holandés). Os aconsejo que veáis sus trabajos en su página web, están muy bien. Esta taza me encanta.
Esther Horchner is a Dutch illustrator with a modern and a bit "street" style (actually very Dutch style). I recommend you to see her works on her web page, they are very nice. I love this cup.
En el blog de DMC han publicado un post que cuenta cómo se creó la famosa empresa de hilos para bordar. Es interesante y curioso, sobre todo teniendo en cuenta que tiene ya 140 años de vida.
On DMC's blog you can find a post that explains how this famous threads company was created. It is interesting and curious, especially taking into account that it has 40 years of life.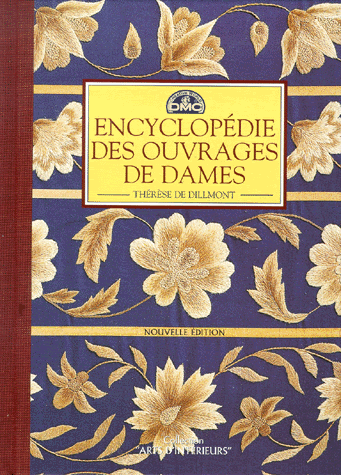 El maravilloso vestido que Audrey Hepburn llevaba en "Desayuno con Diamantes" ha dejado de exponerse en el Museo del Traje de Madrid por motivos de conservación. ¡Una pena! Espero que lo muestren de vez en cuando. El vestido fue donado por el propio diseñador Hubert de Givanchy, que consideraba que el de Madrid "es el mejor museo del traje del mundo".
The wonderful dress that Audrey Hepburn wore in "Breakfast at Tiffany's" is no longer exhibited at Madrid's Museo del Traje for preservation reasons. What a pity! I hope they show it occasionally. The dress was donated by the designer Hubert de Givanchy himself, who

considered that Madrid's was "the best costume museum in the world".
Duo Fiberworks es la página web de dos gemelas "con mucho arte" y tiene un estupendo apartado de tutoriales, con un poco de todo. El que más me ha llamado la atención es un tutorial para hacer el juego de madera de la escalera de Jacob.
Duo Fiberworks is the web page of two twins "with very much art" and has a marvellous tutorials section, with a bit of everything. The one that especially attracted my attention is a tutorial to make a Jacob's Ladder wood game.
¿Recordáis el programa infantil Fraggle Rock? A mi me encantaba, era muy tierno.
Do you remember the children TV program Fraggle Rock? It loved it, it was so tender.